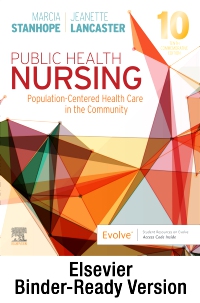 Publication Date:
12-26-2019
Public Health Nursing - Binder Ready, 10th Edition
Binder Ready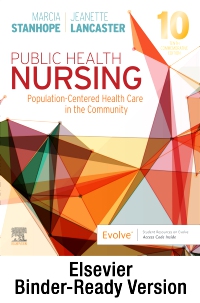 Publication Date:
12-26-2019
Ensure students have a solid understanding of community and public health nursing with this industry standard text! Public Health Nursing: Population-Centered Health Care in the Community, 10th Edition provides up-to-date information on issues such as infectious diseases, natural and man-made disasters, and healthcare policies affecting individuals, families, and communities. This new edition has been thoroughly updated to reflect current data, issues, trends and practices presented in an easy-to-understand, accessible format. Additionally, real-life scenarios show examples of health promotion and public health interventions. Ideal for BSN and Advanced Practice Nursing programs, this comprehensive, bestselling text will provide your students with a greater understanding of public health nursing!
Focus on Quality and Safety Education for Nurses boxes give examples of how quality and safety goals, knowledge, competencies and skills, and attitudes can be applied to nursing practice in the community.
Healthy People boxes highlight goals and objectives for promoting the nation's health and wellness over the next decade.
Linking Content to Practice boxes provide examples of the nurse's role in caring for individuals, families, and populations in community health settings.
Evidence-Based Practice boxes illustrate the use and application of the latest research findings in public/community health nursing.
Unique! Separate chapters on healthy cities, the Intervention Wheel, and nursing centers describe different approaches to community health initiatives.
Levels of Prevention boxes identify specific nursing interventions at the primary, secondary, and tertiary levels.
End-of-chapter Practice Application scenarios, Key Points, and Clinical Decision-Making activities promote application and in-depth understanding of chapter content.
UPDATED Content and figures reflect current data, issues, trends, and practices.
How To boxes provide you with practical application practice.

NEW! Check Your Practice boxes added throughout feature scenarios and discussion questions to promote active learning.

Part 1: Influencing Factors in Public Health Nursing and Population Health 1. Public Health Foundations and Population Health 2. History of Public Health and Public and Community Health Nursing 3. Public Health, Primary Care, and Primary Health 4. Perspectives in Global Health Care 5. Economics of Health Care Delivery

Part 2: Forces Affecting Nurses in the Delivery of Public and Population Health Care Delivery 6. Environmental Health 7. Application of Ethics in the Community 8. Cultural Diversity in the Community 9. Public Health Policy 10. Evidence-Based Practice

Part 3: Conceptual and Scientific Frameworks Applied to Nursing Practice 11. Population-Based Public Health Nursing Practice: The Intervention Wheel 12. Genomics in Public Health Nursing 13. Epidemiology 14. Infectious Disease Prevention and Control 15. Communicable and Infectious Disease Risks

Part 4: Community Level Interventions 16. Promoting Healthy Communities 17. Community as Client: Assessment and Analysis 18. Building a Culture of Health to Influence Health Equity within Communities 19. Health Education Principles Applied in Communities, Groups, Families and Individuals for Healthy Change

Part 5: Issues and Approaches in Population-Centered Nursing 20. The Nurse Managed Health Center: A Model for Public Health Nursing Practice 21. Public Health Nursing Practice and the Disaster Management Cycle 22. Public Health Surveillance and Outbreak Investigation 23. Program Management 24. Quality Management 25. Case Management

Part 6: Promoting the Health of Target Populations Across the Life Span 26. Working with Families in the Community for Healthy Outcomes 27. Family Health Risks 28. Child and Adolescent Health 29. Major Health Issues and Chronic Disease Management of Adults Across the Life Span 30. Disability Health Care Across the Lifespan

Part 7: Promoting and Protecting the Health of Vulnerable Populations 31. Vulnerability and Vulnerable Populations 32. Rural Health Issues 33. Poverty and Homelessness 34. Migrant Health Issues 35. Teen Pregnancy 36. Mental Health Issues 37. Alcohol, Tobacco and Other Drug Problems 38. Violence and Human Abuse

Part 8: Nurses' Roles and Functions in the Community 39. The Advanced Practice Nurse in the Community 40. The Nurse Leader in the Community 41. The Nurse in Public Health, Home Health, Hospice, and Palliative Care 42. The Nurse in the Schools 43. The Nurse in Occupational Health 44. Forensic Nursing in the Community 45. The Nurse in the Faith Community 46. Public Health Nursing at Local, State, and National Levels

Marcia Stanhope, PhD, RN, FAAN, Education and Practice Consultant and Professor Emerita, College of Nursing, University of Kentucky, Lexington, Kentucky and Jeanette Lancaster, PhD, RN, FAAN, Sadie Heath Cabiness Professor and Dean Emerita, School of Nursing, University of Virginia, Charlottesville, Virginia; Associate, Tuft & Associates, Inc.