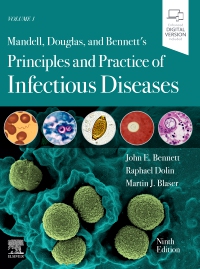 Publication Date:
03-08-2021
Mandell, Douglas, and Bennett's Principles and Practice of Infectious Diseases - Elsevier eBook on VitalSource, 9th Edition
Elsevier eBook on VitalSource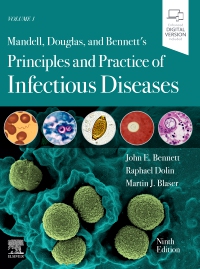 Publication Date:
03-08-2021
Most review copies are eBooks – how fast!
A review copy request is most likely to be fulfilled as an eBook on VitalSource rather than a print product, unless no eBook is available. eBooks become available in as little as a few hours. Print products will take between 7 and 10 days to arrive. To request a print copy, please contact the
Evolve Support Center
or your
Education Solutions Consultant
.
Provides more in-depth coverage of epidemiology, etiology, pathology, microbiology, immunology, and treatment of infectious agents than any other infectious disease resource.

Features an increased focus on antibiotic stewardship; new antivirals for influenza, cytomegalovirus, hepatitis C, hepatitis B., and immunizations; and new recommendations for vaccination against infection with pneumococci, papillomaviruses, hepatitis A, and pertussis.

Covers newly recognized enteroviruses causing paralysis (E-A71, E-D68); emerging viral infections such as Ebola, Zika, Marburg, SARS, and MERS; and important updates on prevention and treatment of C. difficile infection, including new tests that diagnose or falsely over-diagnose infectious diseases.

Offers fully revised content on bacterial pathogenesis, antibiotic use and toxicity, the human microbiome and its effects on health and disease, immunological mechanisms and immunodeficiency, and probiotics and alternative approaches to treatment of infectious diseases.

Discusses up-to-date topics such as use of the new PCR panels for diagnosis of meningitis, diarrhea and pneumonia; current management of infected orthopedic implant infections; newly recognized infections transmitted by black-legged ticks in the USA: Borrelia miyamotoi and Powassan virus; infectious complications of new drugs for cancer; new drugs for resistant bacteria and mycobacteria; new guidelines for diagnosis and therapy of HIV infections; and new vaccines against herpes zoster, influenza, meningococci.

PPID continues its tradition of including leading experts from a truly global community, including authors from Australia, Canada and countries in Europe, Asia, and South America.

Includes regular updates online for the life of the edition.

Features more than 1,500 high-quality, full-color photographs—with hundreds new to this edition.

Enhanced eBook version included with purchase, which allows you to access all of the text, figures, and references from the book on a variety of devices.

I Basic Principles in the Diagnosis and Management of Infectious Diseases
A MICROBIAL PATHOGENESIS
1 A Molecular Perspective of Microbial Pathogenicity
2 The Human Microbiome of Local Body Sites and Their Unique Biology
3 Prebiotics, Probiotics, and Synbiotics
B HOST DEFENSE MECHANISMS
4 Innate (General or Nonspecific) Host Defense Mechanisms
5 Adaptive Immunity: Antibodies and Immunodeficiencies
6 Cell-Mediated Defense Against Infection
7 Mucosal Immunity
8 Granulocytic Phagocytes
9 Complement and Deficiencies
10 Human Genetics and Infection
11 Nutrition, Immunity, and Infection
12 Evaluation of the Patient With Suspected Immunodeficiency
C EPIDEMIOLOGY OF INFECTIOUS DISEASE
13 Applied Epidemiology for the Infectious Diseases Physician
14 Emerging and Reemerging Infectious Disease Threats
15 Bioterrorism: An Overview
D CLINICAL MICROBIOLOGY
16 The Clinician and the Microbiology Laboratory: Test Ordering, Specimen Collection, and Result Interpretation
E ANTIINFECTIVE THERAPY
17 Principles of Antiinfective Therapy
18 Molecular Mechanisms of Antibiotic Resistance in Bacteria
19 Pharmacokinetics and Pharmacodynamics of Antiinfective Agents
20 Penicillins and ß-Lactamase Inhibitors
21 Cephalosporins
22 Ertapenem, Imipenem, Meropenem, Doripenem, and Aztreonam
23 Antibiotic Allergy
24 Fusidic Acid
25 Aminoglycosides
26 Tetracyclines, Glycylcyclines, and Chloramphenicol
27 Rifamycins
28 Metronidazole
29 Macrolides and Clindamycin
30 Glycopeptides (Vancomycin and Teicoplanin) and Lipoglycopeptides (Telavancin, Oritavancin, and Dalbavancin)
31 Daptomycin and Quinupristin-Dalfopristin
32 Polymyxins (Polymyxin B and Colistin)
33 Linezolid, Tedizolid, and Other Oxazolidinones
34 Sulfonamides and Trimethoprim; Trimethoprim-Sulfamethoxazole
35 Quinolones
36 Unique Antibacterial Agents
37 Urinary Tract Agents: Nitrofurantoin, Fosfomycin, and Methenamine
38 Topical Antibacterials
39 Antimycobacterial Agents
40A Antifungal Agents: Amphotericin B
40B Antifungal Drugs: Azoles
40C Antifungal Drugs: Echinocandins
40D Antifungal Drugs: Flucytosine
41 Antimalarial Drugs
42 Drugs for Protozoal Infections Other Than Malaria
43 Drugs for Helminths
44 Antiviral Agents: General Principles
45 Antiviral Drugs for Influenza and Other Respiratory Virus Infections
46 Antivirals Against Herpesviruses
47 Antiviral Drugs Against Hepatitis Viruses
48 Miscellaneous Antiviral Agents (Interferons, Tecovirimat, Imiquimod, Pocapavir, Pleconaril)
49 Immunomodulators
50 Hyperbaric Oxygen
51 Antimicrobial Stewardship
52 Designing and Interpreting Clinical Studies in Infectious Diseases
53 Outpatient Parenteral Antimicrobial Therapy
54 Tables of Antiinfective Agent Pharmacology
II Major Clinical Syndromes
A FEVER
55 Temperature Regulation and the Pathogenesis of Fever
56 Fever of Unknown Origin
57 The Acutely Ill Patient With Fever and Rash
B UPPER RESPIRATORY TRACT INFECTIONS
58 The Common Cold
59 Pharyngitis
60 Acute Laryngitis
61 Otitis Externa, Otitis Media, and Mastoiditis
62 Sinusitis
63 Epiglottitis
64 Infections of the Oral Cavity, Neck, and Head
C PLEUROPULMONARY AND BRONCHIAL INFECTIONS
65 Acute Bronchitis
66 Acute Exacerbations of Chronic Obstructive Pulmonary Disease
67 Acute Pneumonia
68 Pleural Effusion and Empyema
69 Bacterial Lung Abscess
70 Chronic Pneumonia
71 Cystic Fibrosis
D URINARY TRACT INFECTIONS
72 Urinary Tract Infections
E SEPSIS
73 Sepsis and Septic Shock
F INTRAABDOMINAL INFECTIONS
74 Peritonitis and Intraperitoneal Abscesses
75 Infections of the Liver and Biliary System (Liver Abscess, Cholangitis, Cholecystitis)
76 Pancreatic Infection
77 Splenic Abscess
78 Appendicitis
79 Diverticulitis and Neutropenic Enterocolitis
G CARDIOVASCULAR INFECTIONS
80 Endocarditis and Intravascular Infections
81 Prosthetic Valve Endocarditis
82 Infections of Nonvalvular Cardiovascular Devices
83 Prevention of Infective Endocarditis
84 Myocarditis and Pericarditis
85 Mediastinitis
H CENTRAL NERVOUS SYSTEM INFECTIONS
86 Approach to the Patient With Central Nervous System Infection
87 Acute Meningitis
88 Chronic Meningitis
89 Encephalitis
90 Brain Abscess
91 Subdural Empyema, Epidural Abscess, and Suppurative Intracranial Thrombophlebitis
92 Cerebrospinal Fluid Shunt and Drain Infections
I SKIN AND SOFT TISSUE INFECTIONS
93 Cellulitis, Necrotizing Fasciitis, and Subcutaneous Tissue Infections
94 Myositis and Myonecrosis
95 Lymphadenitis and Lymphangitis
J GASTROINTESTINAL INFECTIONS AND FOOD POISONING
96 Syndromes of Enteric Infection
97 Esophagitis
98 Diarrhea With Little or No Fever
99 Acute Dysentery Syndromes (Diarrhea With Fever)
100 Typhoid Fever, Paratyphoid Fever, and Typhoidal Fevers
101 Foodborne Disease
102 Tropical Sprue and Environmental Enteric Dysfunction
K BONE AND JOINT INFECTIONS
103 Infectious Arthritis of Native Joints
104 Osteomyelitis
105 Orthopedic Implant–Associated Infections
L DISEASES OF THE REPRODUCTIVE ORGANS AND SEXUALLY TRANSMITTED DISEASES
106 Genital Skin and Mucous Membrane Lesions
107 Urethritis
108 Vulvovaginitis and Cervicitis
109 Infections of the Female Pelvis
110 Prostatitis, Epididymitis, and Orchitis
M EYE INFECTIONS
111 Introduction to Eye Infections
112 Microbial Conjunctivitis
113 Microbial Keratitis
114 Endophthalmitis
115 Infectious Causes of Uveitis
116 Periocular Infections
N HEPATITIS
117 Viral Hepatitis
O ACQUIRED IMMUNODEFICIENCY SYNDROME
118 Global Perspectives on Human Immunodeficiency Virus Infection and Acquired Immunodeficiency Syndrome
119 Epidemiology and Prevention of AIDS and HIV Infection, Including Preexposure Prophylaxis and HIV Vaccine Development
120 Diagnosis of Human Immunodeficiency Virus Infection
121 The Immunology of Human Immunodeficiency Virus Infection
122 General Clinical Manifestations of Human Immunodeficiency Virus Infection (Including Acute Retroviral Syndrome and Oral, Cutaneous, Renal, Ocular, Metabolic, and Cardiac Diseases)
123 Pulmonary Manifestations of Human Immunodeficiency Virus Infection
124 Gastrointestinal, Hepatobiliary, and Pancreatic Manifestations of Human Immunodeficiency

John E. Bennett, MD, Adjunct Professor of Medicine, Uniformed Services University of the Health Sciences, F. Edward Hebert School of Medicine, Bethesda, Maryland, Raphael Dolin, MD, Maxwell Finland Professor of Medicine (Microbiology & Molecular Genetics), Harvard Medical School; Attending Physician, Beth Israel Deaconess Medical Center Brigham and Women's Hospital, Boston, Massachusetts and Martin J. Blaser, MD, Henry Rutgers Chair of the Human Microbiome, Professor of Medicine and Microbiology - RWJNS, Director, Center for Advanced Biotechnology and Medicine, Rutgers University, Piscataway, New Jersey
Most review copies are eBooks – how fast!
A review copy request is most likely to be fulfilled as an eBook on VitalSource rather than a print product, unless no eBook is available. eBooks become available in as little as a few hours. Print products will take between 7 and 10 days to arrive. To request a print copy, please contact the
Evolve Support Center
or your
Education Solutions Consultant
.