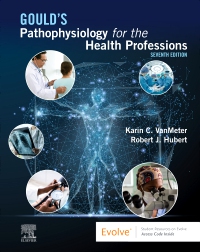 Publication Date:
11-11-2022
Pathophysiology Online for Gould's Pathophysiology for the Health Professions, 7th Edition
Online Course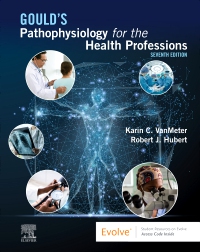 Publication Date:
11-11-2022
Or $0.00 with a valid access code
Reinforce your understanding of pathophysiology with this dynamic, easy-to-use online course! With modules corresponding to the chapters in Gould's Pathophysiology for the Health Professions, 7th Edition, Pathophysiology Online provides narrated animations, slide shows, and interactive exercises to help you master concepts relating to disorders and disease processes. It presents information in small "chunks" for easier comprehension, using a case-based approach to encourage critical thinking and help you apply pathophysiology concepts to real-world practice. Ideal for visual learning styles, this online course makes it easy to review and master the fundamentals of pathophysiology.
Duration for access to this product is for the life of the edition.
Animations, slide shows, and audio narration demonstrate the more difficult disease and health processes, showing how, why, when, and the order in which abnormal physiologic processes take place.
Clinical Correlation case studies apply pathophysiology to the real world, with each case featuring a patient with a pathology pertaining to a specific body system, along with an electronic health record and self-assessment questions.
Self-assessment activities promote learning with Self-Check activities such as image association, drag-and-drop, matching, multiple-choice, and flash card activities, plus Think About short-answer exercises — all with immediate feedback and source references.
Learning features in each module include a lesson overview with learning objectives, glossary terms, and a module summary.
Audio glossary offers quick, easy access to pronunciations and definitions for new and unfamiliar terms, with some including illustrations.

NEW! Updated content reflects the revisions in Gould's Pathophysiology for the Health Professions, 7th Edition textbook.
NEW! The Bigger Picture bulleted summaries identify other body systems that might be affected by a disease or disorder found in a specific body system.
NEW coverage of COVID-19 is added, as well as new information on other conditions and diseases.
NEW diagnostic methods and treatments are covered, showing how these are impacted by digitalization, information technology, and artificial intelligence.
NEW! Updated statistics on diseases and their related pathophysiology are included in the modules.
NEW photographs and illustrations are added.

Section I: Pathophysiology: Background and Overview 1. Introduction to Pathophysiology 2. Fluid, Electrolyte, and Acid-Base Imbalances 3. Introduction to Basic Pharmacology and Other Common Therapies 4. Pain

Section II: Defense/Protective 5. Inflammation and Healing 6. Infection 7. Immunity

Section III: Pathophysiology of Body Systems 8. Skin Disorders 9. Musculoskeletal Disorders 10. Blood and the Circulatory System 11. Lymphatic System Disorders 12. Cardiovascular System Disorders 13. Respiratory System Disorders 14. Neurological Disorders 15. Eyes, Ears and Other Sensory Organs 16. Endocrine Disorders 17. Digestive System Disorders 18. Urinary System Disorders 19. Reproductive System Disorders 20. Neoplasms and Cancer

Section IV: Factors Contributing to Pathophysiology 21. Congenital and Genetic Disorders 22. Complications Due to Pregnancy 23. Complications Due to Adolescence 24. Complications Due to Aging

Section V: Environmental Factors and Pathophysiology 25. Immobility and Associated Problems 26. Stress and Associated Problems 27. Substance Abuse and Associated Problems 28. Environmental Hazards and Associated Problems

Karin C. VanMeter, PhD, Lecturer, Iowa State University, Department of Biomedical Sciences, College of Veterinary Medicine, Ames, Iowa and Robert J Hubert, BS, Laboratory Coordinator, Iowa State University, Department of Animal Sciences, Ames, Iowa.
Or $0.00 with a valid access code