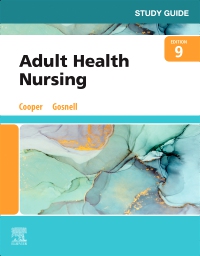 Publication Date:
05-31-2022
Study Guide for Adult Health Nursing - Elsevier eBook on Vital Source, 9th Edition
Elsevier eBook on VitalSource
Publication Date:
05-31-2022
Reinforce student understanding of LPN/LVN medical-surgical nursing — and prepare them for the NCLEX-PN® exam! Corresponding to the chapters in Adult Health Nursing, 9th Edition, this study guide provides a variety of questions and exercises to help students review, practice, and apply concepts and care for patients with common disorders. Review questions make it easier to achieve the objectives from the textbook, and critical thinking activities help students develop clinical judgment skills. Now with Next Generation NCLEX® (NGN)-style case studies and questions, this guide provides students with an effective study tool for the NGN exam.
Variety of exercises reinforces student understanding of adult health nursing with multiple-choice, matching, and select-all-that-apply questions, as well as crossword puzzles.
Critical thinking activities ask students to apply their knowledge to clinical scenarios.
Textbook page references are included for questions and activities, simplifying lookup and review.
Answer key is provided on the Evolve website for Adult Health Nursing.

NEW! Next Generation NCLEX® (NGN)-style questions provide practice for the new question formats on the NCLEX-PN® exam.
NEW! Updated exercises correspond to the new and revised content in Adult Health Nursing, 9th Edition.
NEW! Case studies allow students to practice and apply clinical judgment skills.

1. Introduction to Anatomy and Physiology

2. Care of the Surgical Patient

3. Care of the Patient with an Integumentary Disorder

4. Care of the Patient with a Musculoskeletal Disorder

5. Care of the Patient with a Gastrointestinal Disorder

6. Care of the Patient with a Gallbladder, Liver, Biliary Tract, or Exocrine Pancreatic Disorder

7. Care of the Patient with a Blood or Lymphatic Disorder

8. Care of the Patient with a Cardiovascular or a Peripheral Vascular Disorder

9. Care of the Patient with a Respiratory Disorder

10. Care of the Patient with a Urinary Disorder

11. Care of the Patient with an Endocrine Disorder

12. Care of the Patient with a Reproductive Disorder

13. Care of the Patient with a Visual or Auditory Disorder

14. Care of the Patient with a Neurological Disorder

15. Care of the Patient with an Immune Disorder

16. Care of the Patient with HIV/AIDS

17. Care of the Patient with Cancer

Kim Cooper, MSN, RN, Associate Professor and Dean, School of Nursing at Ivy Tech Community College and Kelly Gosnell, RN, MSN, Associate Professor and Department Chair, School of Nursing at Ivy Tech Community College