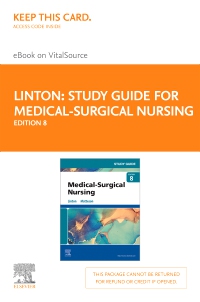 Publication Date:
07-11-2022
Study Guide for Medical-Surgical Nursing - Elsevier eBook on VitalSource (Retail Access Card), 8th Edition
Elsevier eBook on VitalSource - Access Card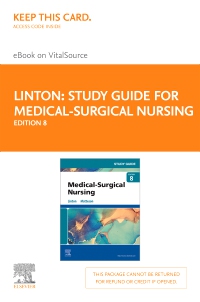 Publication Date:
07-11-2022
This item has low stock levels and may be back-ordered. We'll let you know if it is back-ordered, and you will not be charged until the item ships.
With chapters corresponding to the chapters in Linton & Matteson's Medical-Surgical Nursing, 8th Edition, this workbook provides a variety of questions and exercises to help students master the LPN/LVN's role in medical-surgical care. Questions include matching, multiple-choice, labeling, case studies, diagram reading, fill-in-the-blank, ordering, and prioritizing challenges. Next-Generation NCLEX®-format questions help students get ready for the Next-Generation NCLEX-PN® examination — and for success in nursing practice!
Questions arranged by level of difficulty move from simple recall to more difficult exercises designed to help you apply, analyze, and synthesize basic concepts.
Alternate format questions include multiple response, labeling, prioritizing, ordering, and calculation questions to help you practice for the NCLEX-PN®.
Review questions on care for older adults focus on long-term care and community-based settings, asking you to apply content to real-world practice.
Additional review questions are provided on the Evolve website for the textbook.

NEW! Next-Generation NCLEX®-format questions help you review and practice for the new licensure examination.
NEW! Case studies in the clinical chapters allow you to develop skills in clinical judgment.
NEW! Updated exercises and review questions match the new content in the textbook, and cover newly approved pharmaceutical treatments and drugs.

Chapter 1 Aspects of Medical-Surgical Nursing
Chapter 2 Medical-Surgical Practice Settings
Chapter 3 Medical-Surgical Patients: Individuals, Families, and Communities
Chapter 4 Health, Illness, Stress, and Coping
Chapter 5 Immunity, Inflammation, and Infection
Chapter 6 Fluid, Electrolyte, and Acid-Base Balance
Chapter 7 The Patient With Cancer
Chapter 8 Pain
Chapter 9 Shock
Chapter 10 The Older Adult Patient
Chapter 11 Falls
Chapter 12 Immobility
Chapter 13 Delirium and Dementia
Chapter 14 Incontinence
Chapter 15 Nutrition
Chapter 16 Intravenous Therapy
Chapter 17 Surgery
Chapter 18 The Patient With an Ostomy
Chapter 19 Palliative and Hospice Care
Chapter 20 Complementary and Alternative Therapies and Integrative Health Care
Chapter 21 Neurologic System Introduction
Chapter 22 Neurologic Disorders
Chapter 23 Cerebrovascular Accident
Chapter 24 Spinal Cord Injury
Chapter 25 Respiratory System Introduction
Chapter 26 Upper Respiratory Disorders
Chapter 27 Acute Lower Respiratory Tract Disorders
Chapter 28 Chronic Lower Respiratory Tract Disorders
Chapter 29 Hematologic System Introduction
Chapter 30 Hematologic Disorders
Chapter 31 Immunologic System Introduction
Chapter 32 Immunologic Disorders
Chapter 33 Cardiovascular System Introduction
Chapter 34 Hypertension
Chapter 35 Cardiac Disorders
Chapter 36 Vascular Disorders
Chapter 37 Digestive System Introduction
Chapter 38 Upper Digestive Tract Disorders
Chapter 39 Lower Digestive Tract Disorders
Chapter 40 Liver, Gallbladder, and Pancreatic Disorders
Chapter 41 Urologic System Introduction
Chapter 42 Urologic Disorders
Chapter 43 Musculoskeletal System Introduction
Chapter 44 Connective Tissue Disorders
Chapter 45 Fractures
Chapter 46 Amputations
Chapter 47 Endocrine System Introduction
Chapter 48 Pituitary and Adrenal Disorders
Chapter 49 Thyroid and Parathyroid Disorders
Chapter 50 Diabetes and Hypoglycemia
Chapter 51 Female Reproductive System Introduction
Chapter 52 Female Reproductive Disorders
Chapter 53 Male Reproductive System Introduction
Chapter 54 Male Reproductive Disorders
Chapter 55 Sexually Transmitted Infections
Chapter 56 Integumentary System Introduction
Chapter 57 Skin Disorders
Chapter 58 Special Senses: Hearing and Vision Introduction
Chapter 59 Eye and Vision Disorders
Chapter 60 Ear and Hearing Disorders
Chapter 61 Psychobiologic Disorders
Chapter 62 Substance-Related and Addictive Disorders
Chapter 63 First Aid, Emergency Care, and Disaster Management

Adrianne Dill Linton, BSN, MN, PhD, RN, FAAN, Professor Emeritus and former Chair of the Department of Family and Community Health at the University of Texas San Antonio School of Nursing. and Mary Ann Matteson, PhD, RN, FAAN, Professor Emeritus and former Chair of the Department of Family Nursing at the University of Texas San Antonio School of Nursing