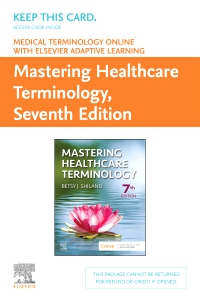 Publication Date:
10-05-2022
Medical Terminology Online with Elsevier Adaptive Learning for Mastering Healthcare Terminology (Retail Access Card), 7th Edition
Online Course - Access Card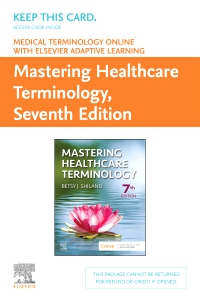 Publication Date:
10-05-2022
Reinforce student understanding of healthcare terminology with dynamic online learning! With modules corresponding to the chapters in Shiland's Mastering Healthcare Terminology, 7th Edition, Medical Terminology Online with Elsevier's Adaptive Learning brings medical terminology to life with fun, interactive exercises as well as narrated animations and slide shows. Use MTO together with the textbook, and students will quickly learn to apply specialized vocabulary in real-world practice. Adaptive learning is included within all modules, accelerating student progress because it delivers content precisely when it is needed. To support faculty, this edition is enhanced with gradable case studies, audio reviews and activities, and EAL assignments that report directly to the instructor's dashboard.
Elsevier's Adaptive Learning provides an excellent, self-paced tool to reinforce your understanding and retention of medical terminology.
Outcome-based learning includes modules that are mapped to specific objectives, with a short assessment after each block of content.
Animations and slide shows bring terminology to life, and help you visualize physiologic, pathologic, and procedural concepts.
Interactive exercises help you recall and recognize medical terms with word building, labeling, spelling, image association, pronunciation, matching, true or false, fill-in-the-blank, and case studies.
Case studies provide practice with using medical terminology in context.
Listen and Choose activity allows you to practice aural recognition of terminology in context.
Medical record activities test your knowledge of the medical terminology used in actual patient records.
Audio reviews after each lesson provide you with opportunities to hear terminology in context.
Lists of audio terms at the end of modules provide a quick, easy review of pronunciation.
Over 5,000-term English/Spanish glossary includes medical terms, definitions, and audio pronunciations in both languages.
Section 508 and Web Content Accessibility Guidelines (WCAG) 2.0-compliant design ensures that people with disabilities can access and use this website.

NEW! Updated anatomy, disease, and disorder illustrations reinforce your understanding.

Introduction

Body Structure and Directional Terminology

Musculoskeletal System

Integumentary System

Gastrointestinal System

Urinary System

Male Reproductive System

Female Reproductive System and Pregnancy

Blood, Lymphatic, and Immune Systems

Cardiovascular System

Respiratory System

Nervous System

Special Senses: Eye and Ear

Endocrine System

Mental and Behavioral Health

Oncology

NEW! Infectious Disease

Betsy J. Shiland, MS, RHIA, CCS, CHDA, CPC, CPB, CPPM, Former Assistant Professor, Allied Health Department, Community College of Philadelphia, Philadelphia, Pennsylvania