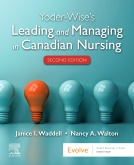 Evolve Resources for Yoder-Wise's Leading and Managing in Canadian Nursing
,2nd Edition
Resources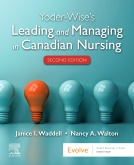 Not Yet Available
Coming Soon!
Expected availability date: 10-01-2019
Educator Resources on Evolve
Application activities and answers
Case studies
Conversion guide
Exercise answers
Image collection in PowerPoint® slides by chapter
NEW! TEACH for Nursing RN and PN versions
Test bank
PowerPoint slides
Questions to consider  
Student Resources on Evolve 
Additional Text Chapters:

Chapter 16: Staffing and Scheduling
Chapter 17: Selecting, Developing, and Evaluating Staff

Additional Resources

Exercise supplementary material
Reading resources - Suggested Readings and Internet Resources
Career resources
Patricia S. Yoder-Wise, RN, EdD, NEA-BC, ANEF, FAAN, Texas Tech University Health Sciences Center, Lubbock, TX, Janice Waddell, RN, PhD, Ryerson University, Associate Dean, Faculty of Community Services; Associate Professor, Daphne Cockwell School of Nursing, Ryerson University and Nancy Walton, RN, PhD, Director and Associate Professor
Ryerson University

This product is available in the following formats:
Not Yet Available
Coming Soon!
Expected availability date: 10-01-2019