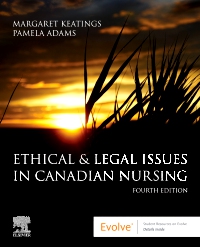 Evolve Resources for Ethical & Legal Issues in Canadian Nursing
, 4th Edition
Resources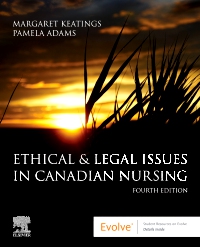 Not Yet Available
Coming Soon!
Expected availability date: 08-15-2019
Educator Resources on Evolve
Conversion guide
TEACH lesson plans NEW!
Test bank
PowerPoint® slides
Student Resources on Evolve
Critical thinking scenarios
Case scenarios
Table (Chapter 5): Overview of Provincial Legislation and Regulatory Bodies and the Category of Nurses They Represent
Review Questions
Margaret Keatings, RN, MHSc, Senior Advisor SickKids International, The Hospital for Sick Children, Toronto, Ontario. and Adams Pamela, RN, BN, MScN, PhD, JD, Member of the Law Society of Ontario, Professor and Year 4 Program Coordinator,
School of Health Sciences,
University of New Brunswick / Humber College Institute of Technology & Advanced Learning Collaborative Bachelor of Nursing Degree Program, Toronto, Ontario.

This product is available in the following formats:
Not Yet Available
Coming Soon!
Expected availability date: 08-15-2019