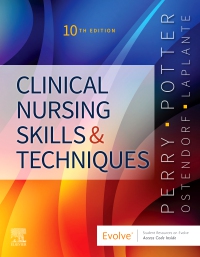 Publication Date:
04-07-2021
Clinical Nursing Skills and Techniques - Elsevier eBook on VitalSource, 10th Edition
Elsevier eBook on VitalSource
Publication Date:
04-07-2021
Help your students learn the clinical nursing skills they will use every day while they prepare for success on the Next Generation NCLEX® Examination! Clinical Nursing Skills & Techniques, 10th Edition provides clear, step-by-step guidelines to more than 200 basic, intermediate, and advanced skills. With more than 1,200 full-color illustrations, a nursing process framework, and a focus on evidence-based practice, this manual helps nurses learn to think critically, ask the right questions at the right time, and make timely decisions. New to this edition are NGN-style unfolding case studies, preparing students for the changes to the NCLEX exam. Written by a respected team of experts led by Anne Griffin Perry, this trusted text is the bestselling nursing skills book on the market!
Comprehensive coverage includes more than 200 basic, intermediate, and advanced nursing skills and procedures.
NEW! Next Generation NCLEX® (NGN)-style unfolding case studies include answers at the back of the book, providing optimal preparation for the Next Generation NCLEX Examination.
Rationales for each step within skills explain the why as well as the how of each skill, and include citations from the current literature.
Clinical Decision Points alert you to key steps that affect patient outcomes and help them modify care as needed to meet individual patient needs.
Unique! Unexpected Outcomes and Related Interventions sections highlight what might go wrong and how to appropriately intervene.
Clinical Debrief at the end of each chapter provides case-based review questions that focus on issues such as managing conflict, care prioritization, patient safety, and decision-making.
More than 1,200 full-color photos and drawings make it easier to visualize concepts and procedures.
Five–step nursing process format helps you apply the nursing process while learning each skill.
Coverage of QSEN core competencies is incorporated into each lesson, including the areas of delegation and collaboration, reporting and recording, safety guidelines, and considerations relating to teaching, pediatric, geriatric, and home care.
Unique! Using Evidence in Nursing Practice chapter covers the entire process of conducting research, including collecting, evaluating, and applying evidence from published research.

F NEW! Next Generation NCLEX® (NGN)-style unfolding case studies include answers at the back of the book, providing optimal preparation for the Next Generation NCLEX Examination.

Unit 1: Supporting the Patient Through the Health Care System

1 Using Evidence in Practice

2 Admitting, Transfer, and Discharge

3 Communication and Collaboration

4 Documentation and Informatics

Unit 2: Vital Signs and Physical Assessment

5 Vital Signs

6 Health Assessment

Unit 3: Special Procedures

7 Specimen Collection

8 Diagnostic Procedures

Unit 4: Infection Control

9 Medical Asepsis

10 Sterile Technique

Unit 5: Activity and Mobility

11 Safe Patient Handling, Transfer, and Positioning

12 Exercise and Mobility

13 Support Surfaces and Special Beds

Unit 6: Safety and Comfort

14 Patient Safety

15 Disaster Preparedness

16 Pain Management

17 Palliative Care

Unit 7: Hygiene

18 Personal Hygiene and Bed Making

19 Care of the Eye and Ear

Unit 8: Medications

20 Safe Medication Preparation

21 Nonparenteral Medications

22 Parenteral Medications

Unit 9: Oxygenation

23 Oxygen Therapy

24 Performing Chest Physiotherapy

25 Airway Management

26 Cardiac Care

27 Closed Chest Drainage Systems

28 Emergency Measures for Life Support

Unit 10: Fluid Balance

29 Intravenous and Vascular Access Therapy

30 Blood Therapy

Unit 11: Nutrition

31 Oral Nutrition

32 Enteral Nutrition

33 Parenteral Nutrition

Unit 12: Elimination

34 Urinary Elimination

35 Bowel Elimination and Gastric Intubation

36 Ostomy Care

Unit 13: Care of the Surgical Patient

37 Preoperative and Postoperative Care

38 Intraoperative Care

Unit 14: Dressings and Wound Care

39 Impaired Skin Integrity Prevention and Care

40 Wound Care and Irrigations

41 Dressings, Bandages, and Binders

42 Warm and Cold Therapy

Unit 15: Home Care

43 Home Care Safety

44 Home Care Teaching

Anne Griffin Perry, RN, MSN, EdD, FAAN, Professor Emerita,School of Nursing,Southern Illinois University,Edwardsville, Illinois, Patricia A. Potter, RN, PhD, FAAN, Director of Research,Patient Care Services,Barnes-Jewish Hospital,St. Louis, Missouri, Wendy Ostendorf, RN, MS, EdD, CNE, Professor of Nursing,Neumann University,Aston, Pennsylvania and Nancy Laplante, PhD, RN, AHN-BC